Douglas Mawson Australasian Antarctic Expedition (1911-14)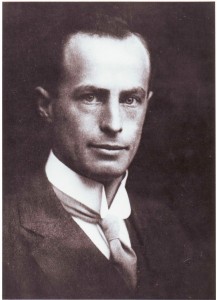 After Shackleton's Nimrod expedition, Edgeworth David said: "Mawson was the real leader and was the soul of our party to the magnetic pole. We really have in him an Australian Nansen, of infinite resource, splendid physique, astonishing indifference to frost." Both Shackleton and Scott asked the Australian explorer and geologist to join their next expeditions. Mawson turned Scott down when Scott rejected his proposal to explore the coast west of Cape Adare. Shackleton and Mawson developed an extensive Antarctic exploration proposal, but it came to nothing. So Mawson promulgated his own Australasian Antarctic Expedition. Unlike other Antarctic explorers, he was not aiming for the South Pole; he was most interested in the part of Antarctica lying directly below Australia, in what he called the Australian quadrant. He initially envisaged three land parties, but modified this to two: the main party of 18, under Mawson, was based in Adélie Land, and the western party of eight, led by the experienced Antarctic expeditioner Frank Wild, was based in Queen Mary Land.
Mawson's ship was Aurora, an old Dundee whaler of 612 tonnes, captained by John King Davis, with a complement of four officers and 19 crew. Mawson also bought an aircraft; it crashed in October 1911 during a fund-raising display in Adelaide, but he took the wingless fuselage to Antarctica to use as a motor sledge. The expedition left Hobart on 2 December 1911, established a five-man radio station at Macquarie Island, and continued southward. The main party landed on the Antarctic mainland on 8 January 1912, and Aurora sailed west with Wild's party on 19 January.
The main party had landed in what seemed an ideal natural harbor, which Mawson named Commonwealth Bay. He called the point where they erected their hut Cape Denison. Too late, he found that they were at the base of a funnel for winds that came down from the polar ice cap; he wrote: "The climate [was] little more than one continuous blizzard …" It was a trying winter, but the expeditioners kept meteorological observations, and erected aerials to send Morse messages to Macquarie Island, the first use of radio in Antarctica—though it was only toward the end that they received replies.
In August, they excavated and provisioned a comfortable cave in the ice of a slope five miles south of the hut. They named it Aladdin's Cave, and it was to prove a lifesaver. Because of spring blizzards, it was November before the five planned sledging expeditions set out. All left between 8 and 10 November, knowing that they must be back to meet Aurora by 15 January. One party was aiming for the South Magnetic Pole, and got to within 80 kilometers (50 miles) of their goal, at an altitude of 1,935 meters (5,900 ft), on 21 December before lack of time and food forced them to turn back. They returned to the hut on 11 January.
A second party planned to use the crippled aircraft to explore the hinterland of Adélie Land; once they even managed to drive it up a steep slope, but on the second day several pistons snapped, and they abandoned it. On 5 December they found a tiny black meteorite—the first ever discovered in Antarctica. They turned back on 26 December and after a difficult journey reached the base on 17 January.
The third and fourth parties traveled together for 75 kilometers (46 miles), and then the near-east group turned back to map the coast between the glacier named after the expedition's Swiss ski expert and mountaineer, Xavier Mertz, and Cape Denison. In one small stretch they found an archipelago of 154 little islands. Meanwhile, the eastern coastal party continued eastward, making its difficult way across the rough Mertz Glacial Tongue, then sea ice, then the Ninnis Glacial Tongue, and then sea ice again as far as a towering coastal promontory of columnar lava that they named Horn Bluff—an expanse of spectacular "organ pipes," with outcrops of sandstone and coal. They started back on 21 December, but struck bad weather and soft snow, and passed several days with virtually nothing to eat before reaching a food depot. They were back in the comparative safety and warmth of the hut on 17 January.
The fifth party was overdue. Mawson had left on 10 November, with Mertz and the ex-Royal Fusilier Belgrave Ninnis. With three sledges and 16 dogs, they made good time at first, but disaster struck on 14 December, not long after they had abandoned one of the sledges. Mertz was leading on skis, Mawson was behind with the first sledge, and Ninnis was in the rear with the other. Mawson wrote: "My sledge crossed a crevasse obliquely and I called back to Ninnis … to watch it, then went on, not thinking to look back again …" But when he did look back, Ninnis had disappeared through a hole in the ice bridge that spanned the crevasse. Mawson and Mertz peered over the edge and saw two dogs and a tent and food bag caught on a ledge; there was no sign of Ninnis. Lacking a rope long enough to climb down, they called fruitlessly for four hours, read the burial service, and took stock of their own situation.
And their situation was desperate indeed, for Ninnis, in the supposedly safer rear position and with the best dog team, had been carrying most of the food, the main tent, and other vital supplies. "May God help us," wrote Mawson, as he contemplated their return journey. They started back on a more southerly route than their outward one to avoid the most dangerous crevasses, surviving by killing and eating the six remaining dogs; the paws took the longest to boil into an edible stew. It was 28 December when they dispatched Ginger, the last of the dogs.
By 3 January 1913, Mertz was ravaged by dysentery and severe frostbite. Mawson told how Mertz tried to maintain his own courage at this time: "To convince himself he bit a considerable piece of the fleshy part off the end of one of [his fingers]." By 6 January Mertz was riding on the sledge; the following day he had several fits, and struggled to get out of his sleeping bag. Mawson woke a couple of hours later to find his companion "stiff in death." There have been insinuations that Mawson practiced cannibalism in these desperate straits, but he had enough food, and his actions in burying his comrade under blocks of snow and marking the position—and above all, his high principles—argue against this. He cut his sledge in half with a penknife to lighten his load, sewed a makeshift sail, and carried on.
Mawson had recorded that the skin had peeled away from their groins, and on 11 January wrote: "My feet felt curiously lumpy and sore." The soles of his feet had come off, and had to be strapped on with bandages. But sudden death was more immediately threatening than frostbite. On 17 January Mawson fell through an ice bridge; suspended on a thin rope, and precariously anchored by his half-sledge, Mawson thought: "So this is it … then I thought of the uneaten food on the sledge … A great effort brought a knot in the rope within my grasp, and after a moment's rest, I was able to draw myself up and reach another, and, at length, hauled my body on to the overhanging snow lip. Then when all appeared to be well … a further section of the lid gave way, precipitating me once more to the full length of the rope."
He contemplated giving up by releasing himself from the rope, but hauled himself to the surface, where he "cooked and ate dog meat enough to give me a regular orgy," and wove a rope ladder that he tied to himself and the sledge—and subsequently used on several occasions. By 29 January he was close to the Cape Denison hut. That day he found a cache of food and a message left six hours earlier by three other members of the expedition, and learned that Amundsen had reached the South Pole, and that the rest of his own men were safe.
Mawson's problems were not over. The snow along his route turned to slippery ice, and he had discarded his crampons. He fell frequently, "until I expected to see my bones burst through my clothes," and makeshift crampons from his wooden theodolite case and from nails and screws. He arrived at Aladdin's Cave on 1 February, only to be pinned down by a blizzard for a week. On 8 February he made his way to the Cape Denison hut, where he saw Aurora sailing into the distance, and "my hopes went down." Then three men waved from the harbor and ran to meet him: six men had stayed in case any of Mawson's party returned, and they wept when they heard of the deaths of Ninnis and Mertz.
Aurora was immediately recalled by radio, but weather conditions made landing impossible, so she resumed her course to pick up Frank Wild's western party and returned to Hobart on 15 March 1913. Mawson believed that that storm may have saved his life, as he was gently nursed through the winter rather than having to withstand the rough Southern Ocean crossing. Sidney Jeffryes was the new radio operator, and his skill was such that they managed to communicate with Australia via Macquarie Island in the early part of the winter. However, Jeffryes suffered a mental breakdown and was able to work only intermittently in the second half of the year. Aurora returned to Commonwealth Bay on 13 December to collect Mawson's party, carried out marine research along the Antarctic coast for two months, and docked in Adelaide on 26 February 1914.
Mawson's scientific achievements had preceded him, and he was treated as a hero when he arrived home. On 31 March 1914 he married Paquita Delprat in Melbourne (J.K. Davis was best man); on 29 June 1914 (the day that Archduke Franz Ferdinand was assassinated in Sarejevo, triggering World War I) he was knighted at St James's Palace in London.
The Western Party
While Mawson's party endured their various ordeals, Aurora had taken Frank Wild's party to the Shackleton Ice Shelf of Queen Mary Land, 2,400 kilometers (1,500 miles) to the west. Vast quantities of supplies had to be dragged by flying fox to the summit of the ice shelf before the ship sailed away on 21 February 1912. Their hut on the ice was habitable by 28 February, but the radio masts they erected were blown down by the first blizzard. On clear days they could see the mainland, 27 kilometers (17 miles) to the south; they visited it in mid-March and left a cache of supplies.
Wild wrote: "The most bigoted teetotaler could not call us an intemperate party. On each Saturday night, one drink per man was served out, the popular toast being 'Sweethearts and Wives". The only other convivial meetings of our small symposium were on the birthdays of each member, Midwinter's Day and King's Birthday."
In August, just before they planned on starting their spring skiing program, the hut nearly burned down while the acetylene generators were being charged. The first journey was to the east; six men and three dogs left on 22 August and returned on 15 September. In summer there were two expeditions: on to the eastern coast under Wild, and one to the western coast under Evan Jones. One man was left at the hut.
Wild's group found the going very heavy, particularly across the crevasses of the Denman Glacier. They climbed to the peak of Mount Barr-Smith on 22 December, at the end of their outward journey, and were back at the hut on 6 January 1913. Jones's party found vast colonies of penguins and other nesting birds on their way. They spent Christmas at a small, bare, extinct volcano that Drygalski had named Gaussberg when the Germans sledged there 10 years before; the German cairns were still visible on the summit. They were 346 kilometers (215 miles) from their hut, but were back there on 21 January.
When Aurora had not returned by the end of January, the party began to stockpile seal meat and blubber in case they were marooned for another winter. Saturday 23 February was the anniversary of the departure of Aurora, and in a howling blizzard they faced the possibility that the ship would not return. But Aurora arrived the following day, with most of the other expeditioners, and they were quickly boarded and taken back to Australia.
author: David McGonigal
Leave a Reply
You must be logged in to post a comment.