16 Carsten Borchgrevink (1898-1900)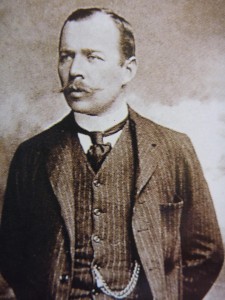 In 1894–95 Borchgrevink had accompanied Henryk Bull on the Antarctic, and when he returned he claimed that most of the achievements of that voyage were his and his alone. It was not an endearing performance but, as Hugh Robert Mill noted: "No one liked Borchgrevink very much but he had a dynamic quality and a set purpose to get out again to the unknown South that struck some of us as boding well for exploration."
British publisher Sir George Newnes had made his fortune publishing penny magazines such as Tit-Bits, Country Life, and The Strand Magazine for the newly educated masses. Newnes put up 40,000 pounds, with which Borchgrevink's British Antarctic Expedition bought the 277-tonne whaler Pollux, renamed it Southern Cross, and sailed from London on 22 August 1898. The aim was to spend a winter at Cape Adare and undertake some land exploration. This was the first land-based Antarctic expedition, and they took more than 70 dogs from Siberia and Greenland, handled by two Laplanders, to haul sledges. The ship's master was Bernhard Jensen, who had been second mate on Antarctic. The scientists were William Colbeck, of the Royal Naval Reserve, as cartographer, navigator, and magnetic observer; Nikolai Hanson, a Norwegian zoologist, assisted by Hugh Blackwall Evans; and Louis Bernacchi, a physicist from Tasmania.
They sailed from Hobart on 17 December 1898 and spotted their first ice on 30 December at 61°56´S. It took 43 days to get through the pack ice—fortunately Southern Cross had been ice-strengthened. They sighted the Antarctic Continent on 15 February 1899 and landed at a large black triangle of flat gravel on the western side of Cape Adare two days later. In ferocious storms it took 12 days to land the wintering party's supplies. At one point six men were stranded ashore, and survived only because the Laplanders had brought their tent and many of the dogs pushed into it and kept the men warm with their bodies. Soon afterwards they erected two prefabricated huts of Norwegian pine on the shore; this was Ridley Camp, named after Borchgrevink's mother and son.
Southern Cross departed for New Zealand on 1 March, leaving 10 men behind to brave the Antarctic winter. On 15 May the sun set, not to rise again until 27 July—72 days later. The small party retreated to the huts and cut outdoor work to a minimum. But confinement indoors had its hazards. Relations between Borchgrevink and the others worsened until he produced a petulant document stating that "the following things would be considered mutiny: to oppose C.E.B. [Borchgrevink] or induce others to do so, to speak ill of C.E.B., to ridicule Mr. C.E.B. or his work, to try and force C.E.B. to alter contracts." And there were more tangible problems: on 24 July the huts nearly burned down when Colbeck left a candle burning and set fire to his bunk, and on 1 September three of the party were almost asphyxiated when a wind shift filled the cabin with coal fumes. Hanson had been sick on the voyage down and through much of the winter, and on 14 October he died, probably from beri-beri, and never saw the thousands of Adélie penguins that crossed the ice toward the camp and their breeding grounds only two days later. Hanson was buried at the summit of Cape Adare on 20 October.
During the year at Cape Adare the land party made several survey trips deep into Robertson Bay, penetrated a short way into the interior, and carried out a program of scientific measurements. Much of our knowledge of the expedition comes from Louis Bernacchi's diary: for 1 January 1900 he noted "A new year and the last of the nineteenth century! A year spent entirely within the Antarctic Circle, and the ice and snow visible each day, for 365 days." The Southern Cross was expected back in January, and anxiety mounted as the days passed and the ship failed to appear. However, the entry for 28 January runs: "At about 8 o'clock in the morning when all were asleep in their bunks, a voice in the room calling 'Post!' broke upon our slumbers. It was the voice of Capt Jensen. With what hysterical joy we tumbled out of our bunks to welcome him!"
They left Cape Adare on 2 February. Bernacchi wrote: "We are not sorry to leave this gelid, desolate spot, our place of abode for so many dreary months!" Over the next few weeks they sailed into the Ross Sea, landing at Possession, Coulman, and Ross islands, and traveling southward across the Ross Ice Shelf to an estimated 78°50´S—the furthest south yet. They turned north on 22 February, crossed the Antarctic Circle on 28 February, and reached New Zealand's Stewart Island on 31 March.
The news that it was possible to survive a winter ashore in Antarctica was noteworthy, but their return attracted little interest. The Boer War had intervened and Robert Falcon Scott's National Antarctic Expedition was preparing for departure amid great excitement. The public was interested to learn that there were no large land animals in Antarctica—expeditions would not now need guns against Polar bears! Borchgrevink was made a Fellow of the Royal Geographical Society and was knighted by the king of Norway, but did not receive the recognition he considered his due. His account, First on the Antarctic Continent, was badly written and did not further his cause, but in 1930 the Royal Geographical Society belatedly awarded him the Patron's Medal, stating: "When the Southern Cross returned, this Society was engaged in fitting out Captain Scott to the same region … and the magnitude of the difficulties overcome by Mr Borchgrevink were underestimated … It was only after … that we were able to realize the improbability that any explorer could do more in the Cape Adare district than Mr. Borchgrevink had accomplished." He died in Norway on 21 April 1934.
Despite the eagerness with which they fled Antarctica after that grim winter, Bernacchi and Colbeck were soon heading south again—both returned to Cape Adare, Bernacchi with Scott on Discovery and Colbeck on Morning to rescue Scott's expedition.
author: David McGonigal
Leave a Reply
You must be logged in to post a comment.