Jean-Baptiste-Etienne-Auguste Charcot French Antarctic Expeditions (1903-05)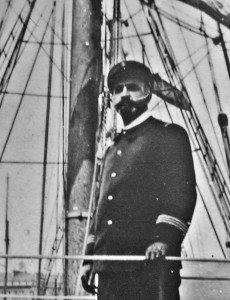 Polar history is littered with the exploits of people with famous relatives (Nordenskjöld and Ross, to mention only two), but very few had such an illustrious forebear as that of Jean-Baptiste Charcot of France. His father was Jean-Martin Charcot, the founder of modern neurology and an important influence on Sigmund Freud. Young Jean followed his father into medicine but was fascinated by the sea. When he inherited a fortune from his father, he invested much of it in the construction of Le Français, a purpose-built, three-masted polar exploration vessel of 245 tonnes displacement.
The first expedition: Le Français
When news of the disappearance of Otto Nordenskjöld reached Europe, Charcot resolved to rush to his rescue. He wrote to his friend, industrialist Paul Pléneau, asking if he would like to participate in the expedition. Pléneau's famous reply was a telegram stating, with admirable economy of words: "Where you like. When you like. For as long as you like." Pléneau went along as the expedition's photographer. The Français expedition attracted strong official and public support, and finally left Le Havre on 27 August 1903 (the first departure, scheduled for 12 days earlier, was aborted when one of the crewmen was accidentally killed). The destination was the western side of the Antarctic Peninsula, where an ambitious program of surveying and science was planned as soon as the men of Antarctic had been rescued. However, their aid was not required—in Buenos Aires they met the recently rescued Nordenskjöld expeditioners, and so the French party was free to continue its own explorations. But Charcot was a rather diffident leader, and when the renowned Belgian explorer Adrien de Gerlache and two others decided to leave the ship in Buenos Aires (de Gerlache to return to his new wife), he required a personal reaffirmation of commitment to the expedition from all who remained before he would continue. Français left Ushuaia on 24 January 1904, and was in the ice and islands of the South Shetlands by the beginning of February.
Hampered by a temperamental ship's engine, the men of Français managed to discover and name the excellent harbor of Port Lockroy, and passed through the Lemaire Channel as far as the Biscoe Islands before retreating to the northern part of what is now Booth Island in the face of advancing winter ice. Here the crew moored the ship in a bay Charcot named Port Charcot after his father, and sat out the winter of 1904. Despite a large library, a supply of musical recordings, and expansive provisioning that extended to daily fresh bread and ample rations of wine and spirits, morale fell dramatically during the enforced inactivity of winter. Exploration continued the following summer, but on 15 January 1905 the ship hit a rock off Alexander Island and began to sink. The crew made a massive effort to stem the leaks and the vessel managed to limp back to Argentina, where Charcot sold it to the Argentinian government for use as a supply ship to its South Orkney Islands station. The expeditioners returned to France to be greeted as polar heroes, and the subsequent publication of 18 volumes of scientific reports amply justified that standing.
author: David McGonigal
Leave a Reply
You must be logged in to post a comment.