Falklands Farewells Iron Lady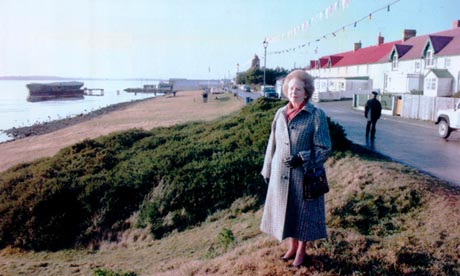 From www.falklandnews.com/public/story.cfm?get=6516&source=2
by J. Brock (FINN)
A memorial service to commemorate the life of Margaret Hilda Roberts Thatcher, Baroness and former prime Minister of the United Kingdom was held at Christ Church Cathedral at 1400hrs on Wednesday, 17 April 2013.Words of welcome were given by Dr the Rev Richard Hines, Priest in Charge of the Cathedral. The hymn, He Who Would Valliant Be, followed the welcome.
Ian Hansens Remarks at Margaret Thatchers memorial Service:
Amongst the many tributes in the UK Press last week it was said that Margaret Thatcher was one of the very few leaders who changed not only the political landscape of her own country, but the rest of the world, too. In the case of the Falkland islands, this could not be truer.
Since the sad news of her passing, flags have flown at half-mast across the Falkland Islands and it is only right that today is made a public holiday, both as a mark of respect and to allow the community to pay tribute to a woman who is held in such high regard and with such deep affection in our Islands.
The status afforded her here is understandable, giving her unfailing interest in the well-being of the Falklands, the Islanders, and in particular, our young people.
In last weeks tributes in the House of Commons it was said Margaret Thatchers ability to overcome every obstacle in her path is just one measure of her personal strength. And never was her strength demonstrated more clearly than in the rapid assembling of the Task Force and subsequent liberation of our country following the Argentine invasion in 1982.
On sending the task force it has been debated as to whether she was unique in her decision making or whether she only did what any leader in her position would have done. This is irrelevant. What is clear is that it was a decision that was not universally supported by her colleagues; and neither would it have an easy decision to send her brave men and women of Britains armed forces into harms way.
Following the Argentine invasion we were not sure what the reaction of the British Government would be. Then we heard Margaret Thatcher say in the House of Commons on April 3rd 1982: they are few in number but they have the right to live in peace, to choose their own way of life and to determine their own allegiance.
She made clear perhaps before many had thoughts to consider it, that we had the right to determine our own future. She often said that she was not a consensus politician but a conviction politician. And last week the Deputy Prime Minister observed that she seemed blissfully indifferent to the popularity of what she said entirely driven instead by the conviction of what she said.
In the case of the Falklands her conviction of standing up for justice and freedom was the right thing to do may have made her difficult decisions easier. We must give thanks for that conviction and for her strength of character. Because of her courage and the skill, bravery and sacrifice of Britains Armed Forces our liberty and our future are secure.
Lady Thatchers legacy in our Islands goes much further than our liberation. She made the UKs position on the Falklands very clear. There would be no negotiation over the Falkland Islands unless and until the islanders wished it. This has ensured that subsequent British Governments regardless of political affiliation have publicly reaffirmed the right of Falkland Islanders to determine their own future. More than 30 years on, the support of the current British Government could not be stronger.
The 1983 British Nationality (Falkland Islands) Act is another important part of her legacy for the Falkland Islands Community. It granted full British Citizenship to Falkland islanders, who were previously classed as British Dependent Territories Citizens. This reinforced our link with the UK, giving us full rights as British Nationals.
This week we have heard many personal memories that demonstrate the unique relationship that she had with us and that we had with her. During her two visits to the Islands she was greeted as a friend. On her first visit in 1983, she became the first person to be honoured with the Freedom of the Falkland Islands, a fitting tribute to the person who secured for us that very right. She remains to this day the only person to have received this recognition.
Receiving this recognition from the Then Financial Secretary the late Harold Rowlands, Mrs Thatcher said that it was the most marvellous honour that could have been conferred on her. At the end of her speech Harold Rowlands called for 3 cheers for the lady who he described as the incomparable Margaret Thatcher.
The three cheers and quite a few more besides were duly delivered with incomparable enthusiasm.
In 1992, as with her first visit, people lined the streets to welcome her and it was important at the time that wherever she went, either in Camp or in town, everyone was there. Everyone joined in and there are many stories of people greeting on the streets and smiles and hugs.
Baroness Thatchers relationship with our Islands was clearly a very personal one. Here she could show the human side that she perhaps could not show at home or elsewhere. During her trips she travelled widely throughout the Islands. And it was during a visit to Fox Bay, that the late Shirley Knight, with a rare display of nerves took to the podium to deliver a speech, thanking Mrs Thatcher for all she achieved on the islanders behalf. It was when Shirley attempted to express regret for those lives lost in liberating our islands that she understandably became overcome with emotion and was unable to continue. Mrs Thatcher made her way to Shirleys side, consoled her with a hug and encouraged her to continue. And there wasnt a dry eye in the house as the two mothers shared their sorrow at what had come before.
On visiting Goose Green, a young girl had a posy to present to lady Thatcher but overcome by the occasion and the overwhelming presence of the visiting press, the young girl passed the flowers back to her mother. Mrs Thatcher saw the problem, shooed the press away and gave the little girl time to adjust to the excitement before the presentation was made as planned.
We were privileged to hear Mrs Thatcher deliver several inspiring speeches aimed at motivating the population to develop not only the Islands but also to strive for personal aspirations. She was successful in both areas. Together we have created an economy and a society that many could not even have imagined 30 years ago.
Baroness Thatcher took a particular interest in the future of our young people. For over two decades students at the Community School have competed for the Margaret Thatcher Trophy awarded for services to the School. Baroness Thatcher personally donated the trophy saying that it would serve as a reminder that we, who had been given so much by those who fought for us have to give something back.
To this day, our strong sense of community is perhaps an example of how we hold to that ideal.
Reading over the speeches she made here over 20 years ago, I was struck to read the following:
As you look around you now, I hope you will all consider that full advantage has been taken of that freedom regained and since guaranteed to these islands.so that we can develop them in a worthy way, an attractive and imaginative way, combining modern infrastructure and its advantages with the Islands qualities and freedom of lifestyle, independence of mind and that practical ability to turn a hand to a wide variety of tasks without relying on someone else.
Those words are just as true today as they were then. Todays modern Falkland Islands is forward looking, internally self-governing and financially self- sufficient. There is perhaps no better legacy to a prime Minister who was not afraid to stand up to freedom and justice than the people and the community she allowed us to come.
One thing is certain in the Falkland islands her memory will never be forgotten – Margaret Thatcher a great woman a great leader a great friend.
Rest in peace.
Amy Gilding and Sorrel Pompert-Robertson read from Ephesians 6:11 about the full armour of God and Dr the Rev Richard Hines gave a homily expounding on anecdotes and experiences Mrs Thatcher had when visiting the Falklands as well as relevant decisions made while she was in the UK. The Homily was followed by the Hymn, Love Devine All Loves Excelling.
Bidding Prayers were read by Monsignor Michael B McPartland, Prefect Apostolic of the Roman Catholic Church in the South Atlantic and Miss Jackie Earnshaw, leader of the Tabernacle Free Church.
After singing the Hymn I Vow to Thee My Country, Dr the Rev Hines gave a final blessing.